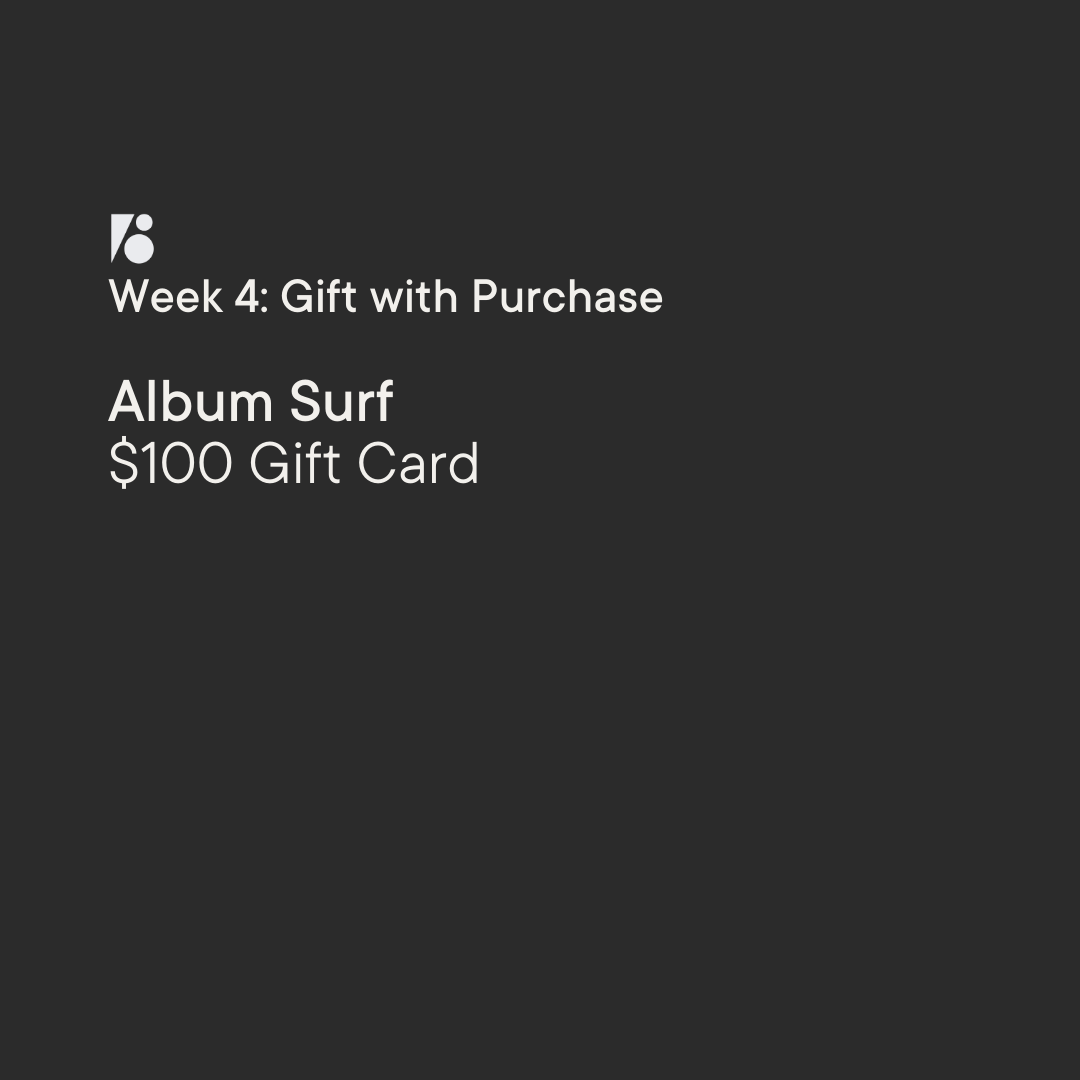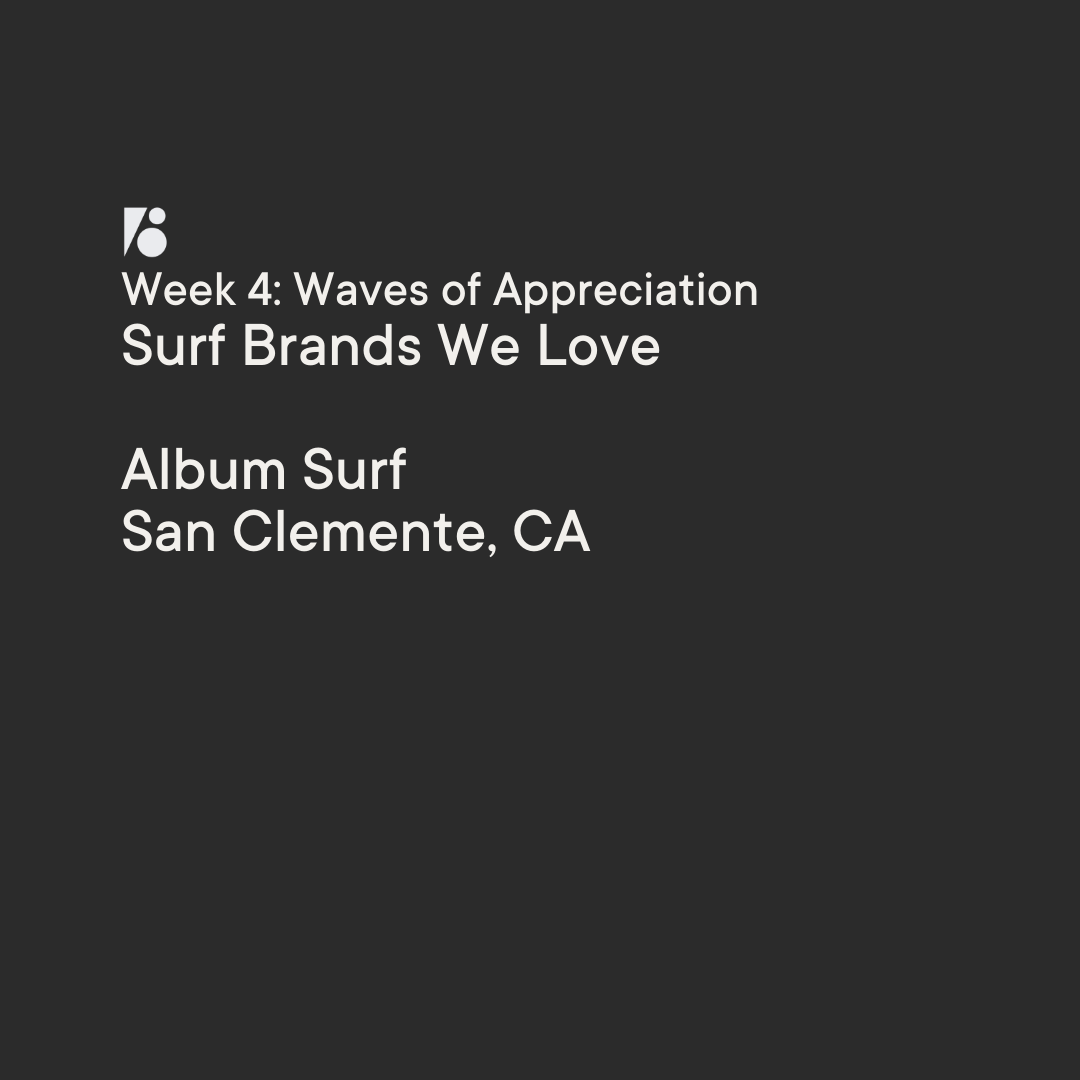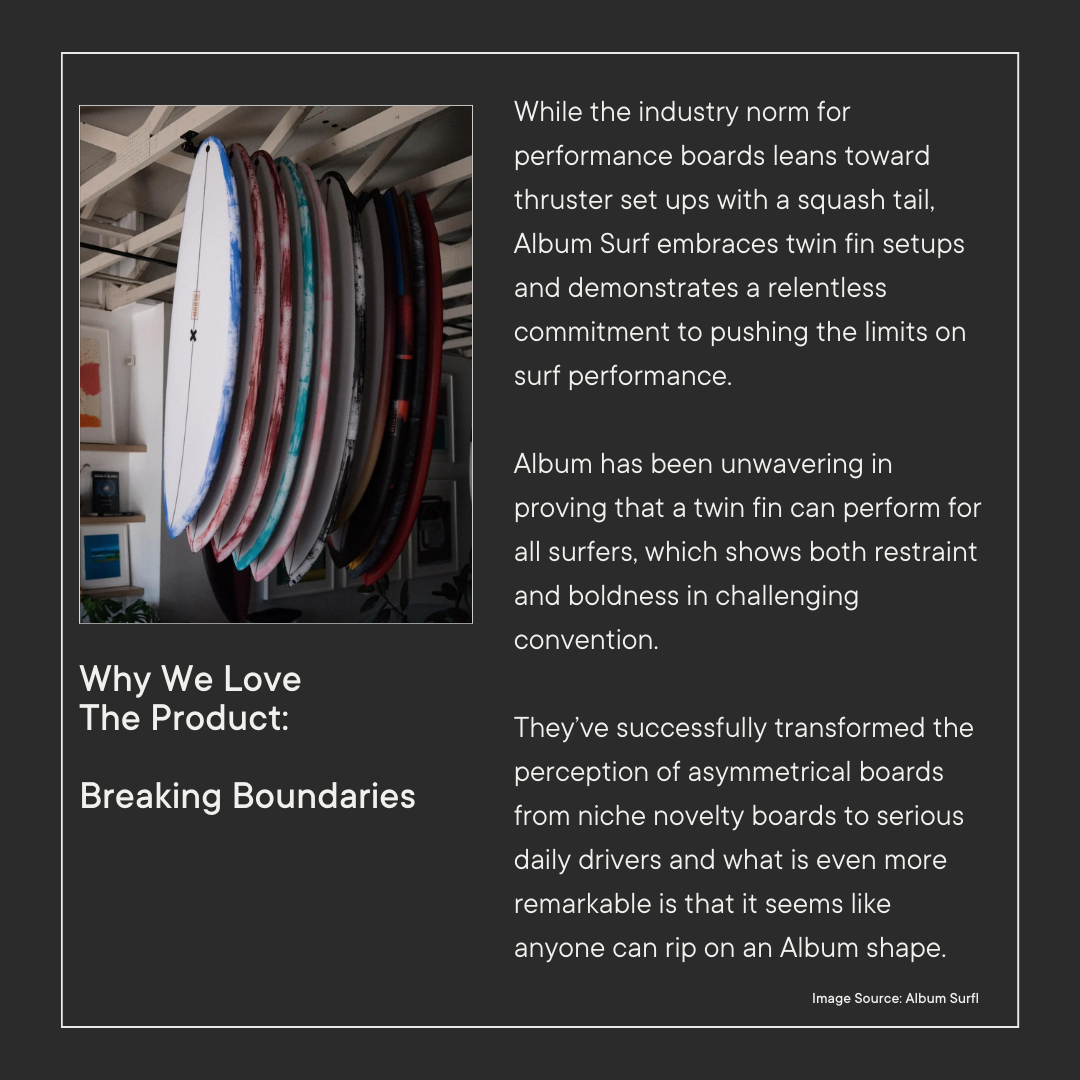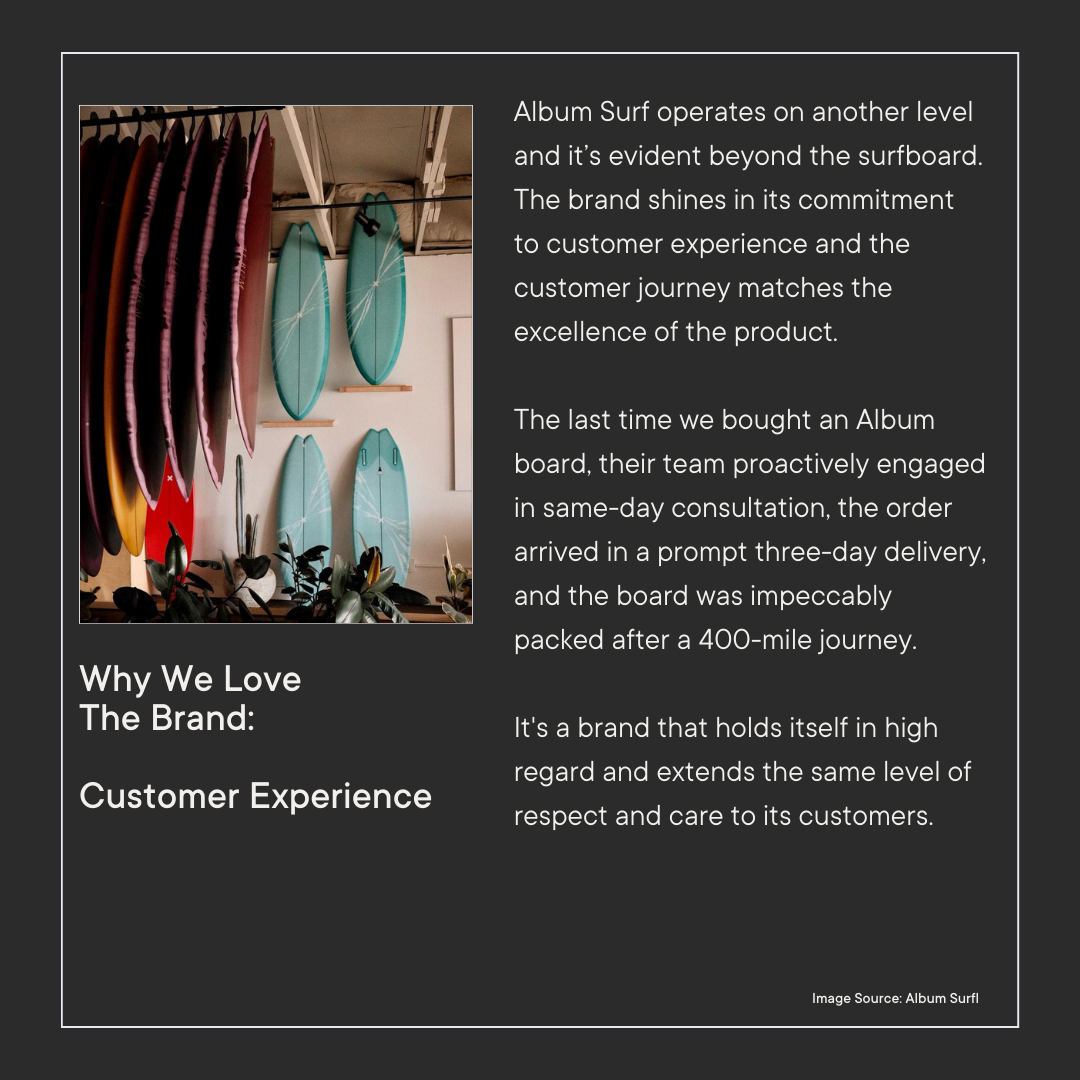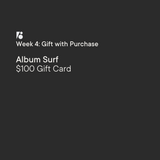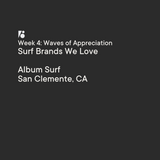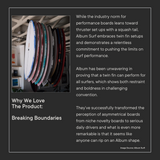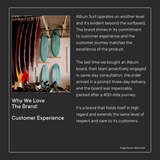 Gift with Purchase: Album Surf| Gift Card | ($100 Value)
THE GIFT

PROMOTION DETAILS

ABOUT THE BRAND
The surf industry is defined by its flagship product - the surfboard - yet it's the most challenging business to navigate, with high costs, slim margins, and complex logistics. We couldn't run a campaign around supporting independent surf without including a surfboard, and we knew it had to be epic. To conclude our campaign, we've chosen Album Surf, a brand that embodies everything we love about surf gear at the highest level and is so inspiring that they intimidate us to this day. 
We've seen the confidence that a great top-tier surfboard can bring in the lineup and we want that for you. For Week 4, we are stoked to announce that we are gifting a $100 gift card from Album Surf. While our gift with purchase won't cover an entire surfboard, we hope it empowers you to take a step closer to elevating your quiver.
Note: This promotion is not in partnership with Album Surf. We are buying these gift cards full-price off their store like any other customer and gifting them to you. Read our Journal Post or Promotion Details to learn more.
This month, we've decided to support independent surf brands we love by buying their products at full-price and gifting them to you. 
Here's how it works. 
Each Monday, we'll reveal the brand & gift for that week only. 
To receive a gift, you must make a purchase of a fullsuit (minimum spend $595) on

7till8.com

. 
Give us 2 business days to fulfill your gift order*.  
We'll make the purchase directly on the brand's store and you'll get the receipt for full transparency. You're also now their customer.  
Your custom wetsuit order will be processed separately and arrive in our current 3-4 week lead times. 
That's it!  
Cannot be combined with offers or applied retroactively. Maximum 1 per order.
Per our policy, all custom wetsuit sales are final.
Since 2001, Matt Parker has crafted surfboards that seamlessly blend design-centric aesthetic appeal with high performance, and witnessing their enduring consistency is truly awe-inspiring.When we started 7TILL8, Album Surf set an exceptionally high bar for us by showcasing the possibility of embracing the unconventional and taking calculated risks. Their existence granted us permission to be undaunted in our own pursuits.
WHY WE LOVE THE PRODUCT: BREAKING BOUNDARIES 
While the industry norm for performance boards leans toward thruster set ups with a squash tail, Album embraces twin fin setups and demonstrates a relentless commitment to pushing the limits on surf performance. Album has been unwavering in proving that a twin fin can perform for all surfers, which shows both restraint and boldness in challenging convention. They've successfully transformed the perception of asymmetrical boards from niche novelty boards to serious daily drivers and what is even more remarkable is that it seems like anyone can rip on an Album shape. 
WHY WE LOVE THE BRAND: CUSTOMER EXPERIENCE
Album Surf operates on another level and it's evident beyond the surfboard. The brand shines in its commitment to customer experience and the customer journey matches the excellence of the product. The last time we bought an Album board, the team proactively engaged in same-day consultation, the order arrived in a prompt three-day delivery, and the board was impeccably packed after a 400-mile journey. It's a brand that holds itself in high regard and extends the same level of respect and care to its customers. 
---
Gift with Purchase: Album Surf| Gift Card | ($100 Value)